Virtual Operations
Why Virtual Operations is Important
In Early Stage companies the focus is on Time To Market, Engineering, Marketing, Funding.
Manufacturing and Operations are generally Not a priority
Some of the early engineering decisions have long term impact as one tries to ramp up production
Many Operational considerations that impact Time-To-Volume and Time-To-Revenue (REAL investor 'care-abouts') are not considered early
Some Industry Facts/Problems
Over 80% of design schedules are missed!
Over 30% of time-to-market for Prototypes is in post-GDS activities
Over 50% of time-to-market for Production is in post-GDS activities
Over 50% of designs need at least one SPIN
Cost of mask sets is escalating very rapidly [over $800K for 90nm CMOS, $1M for 65nm and over $1.5M for 45nm]….hence implementing "first time right" designs is crucial!
The dis-aggregated COT(customer owned tooling) supply chain has many GAPS since there are

many alternatives - Fabless ASIC, Do-it-yourself COT, Outsourced COT,...
many suppliers - IP, Libraries, Memory, Fab, Packaging, Test,...
many negotiations, selection, relationships
The Operations Dilemma
Hiring a full time Operations team
too early can be expensive!
too late can be catastrophic for meeting customer expectations for delivering unit volumes, and making revenue targets
The TCX Approach
We have developed a systematic methodology to account for some of these operations issues. This is based on a concurrent engineering approach which is one important aspect of - "glue-ware" in the IC development and implementation process. Operations tasks are organized into four phases of the IC life cycle - Global Planning, Design Support and Operations Planning, Prototyping and Production Execution as shown in the figure. This approach offers an opportunity to cost effectively manage the operations dilemma by selectively leveraging experienced industry resources.
Details of the TCX approach are discussed in a book and in various white papers.
TCX offers services in all four phase of the IC Development Cycle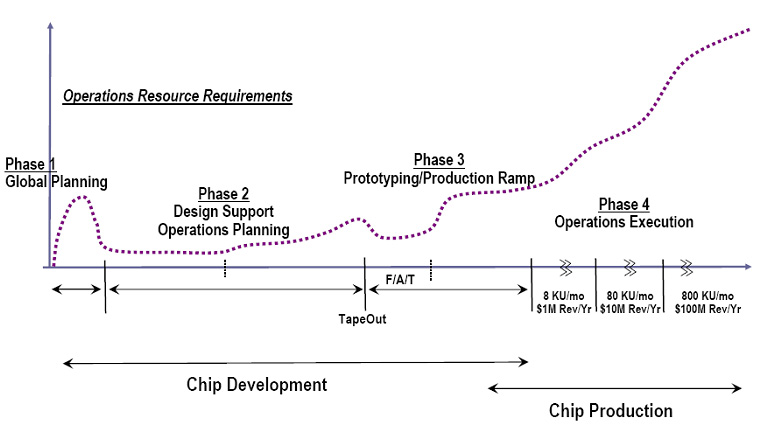 An experienced team provides an operations focus and solutions in support of the client's management team. As we discussed in the book, we use concurrent engineering principles to partition the IC Development Life Cycle into the four areas. TCX provides services in any and all of these areas depending on the client's needs.
Global Planning Services
"As-Is" Analysis Assessment
Customized presentation and/or report of recommendations
Implementation method selection - ASIC, COT, .....
Trade-offs of partition parameters - gate count, IP, memory, pins, package, chip size,...
Trade-offs in technology selection - 0.18um, 0.13um, 90nm, 65nm, 45/40nm, 32/28nm CMOS, SiGe BiCMOS, ...
Supply chain partner identification/early commits - ASIC, Foundry, Library, IP, Memory, Package, Test,...
Cost estimates and sensitivities, especially for chip size growth
Overall program plan development
This is usually a brief (4-6 week) engagement
Design Support and Ops Planning Services
This is usually a 6-12 month engagement
TCX becomes a virtual part of the management team in an "Acting VP Operations" role
Activities include the following:
Supplier relations/contract development and negotiation for:

IP, Libraries, Memories, Foundry, Design Services, Package,...

Technology feature selection and cost trade-offs - MiM Caps, Vt, ESD, DNW, Power, Performance,..
Prototyping shuttle arrangements
Characterization plan
Qualification planning
Package design and trade-offs
Test/Failure Analysis/Debug planning
Operations planning including manpower plan
Quality planning, Document Control plan and procedures
Cost estimates
Manufacturing infrastructure "Make vs. Buy" decisions
Program Management/tracking of progress on key benchmarks
Prototyping and Debug Services
Activities include the following:
Shuttle prototyping coordination

- with Foundry, Assembly, Test Service Providers
- Logistics and hand-offs, wire bond diagrams, marking,...

Characterization in process corners

Qualification coordination including burn-in boards, logistics,...

Oversee Test/Failure Analysis/Debug

Validate Yield/Cost estimates

Forecasting and capacity planning
This is usually a 3-6 month engagement.
The schedule is dependant on supplier cycle times, design complexity, test issues,...
Production Support Services
Activities include the following:
Qualification coordination

Yield characterization

Yield improvement program

Oversee Test/Failure Analysis/Debug

Validate Yield/Cost estimates

Forecasting and capacity planning

Oversee Document Release process

Manufacturing logistics - manage or transfer to internal team

Customer QA Audit interface